How High should your
wall lights be?
Wall lights are often overlooked in favour of ceiling lights, table lamps and freestanding lights, but they can be an incredible addition to your lighting scheme. Whether you're fitting wall lights indoors or accessorising your outdoor living area, LED wall lights can free up space, create the perfect ambience and, chosen well, fit in with your décor and really enhance your home.
‍
Unfortunately, some people worry about 'getting it wrong' when it comes to wall lights. Standing and table lamps can be moved around, and ceiling lights are already in place. If you're fitting wall lights and need some top tips, here's our handy guide with everything you need to know.

Shop Wall Lights
How High & How Far Apart Should You Place Wall Lights?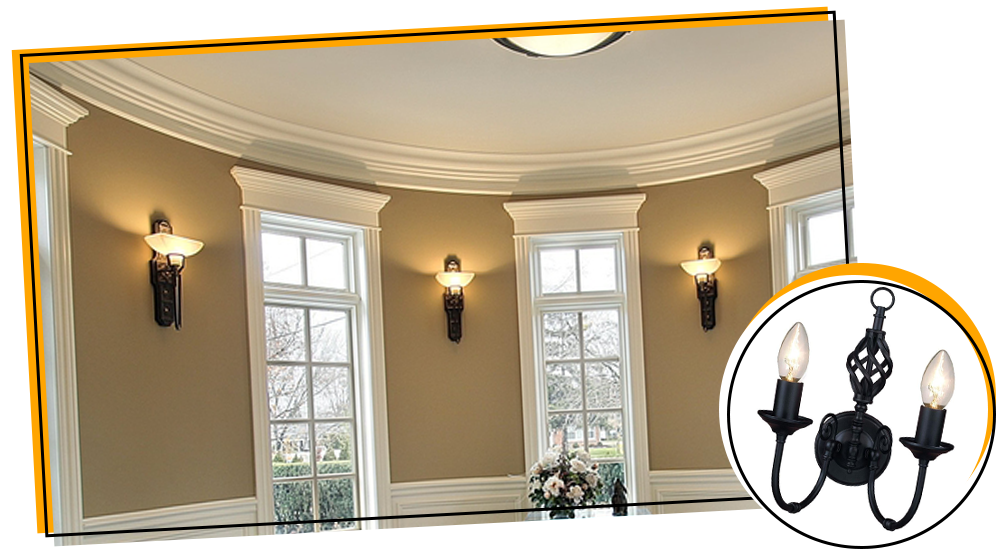 This is the question which most perplexes people, and the truth is, there's no hard and fast rule. Generally, we would advise fitting wall lights between 152-170cm from floor level, which means they are about eye level or slightly above for most people and you won't suffer from the glare of a naked bulb. Of course, this very much depends on the size of the wall light, the height of the ceilings and the room you're fitting them in.
‍
If you have high ceilings, you may want to position them a little further up the wall. The same is true in bathrooms, where wall lights are often positioned to either side of a mirror and you don't want too much glare. Outdoors, positioning LED wall lights higher up can maximise the light they give off when you want to illuminate a large patio or seating area. Depending on the space, wall lights should best be fitted around 250-300cm apart.

Positioning Bathroom Wall Lights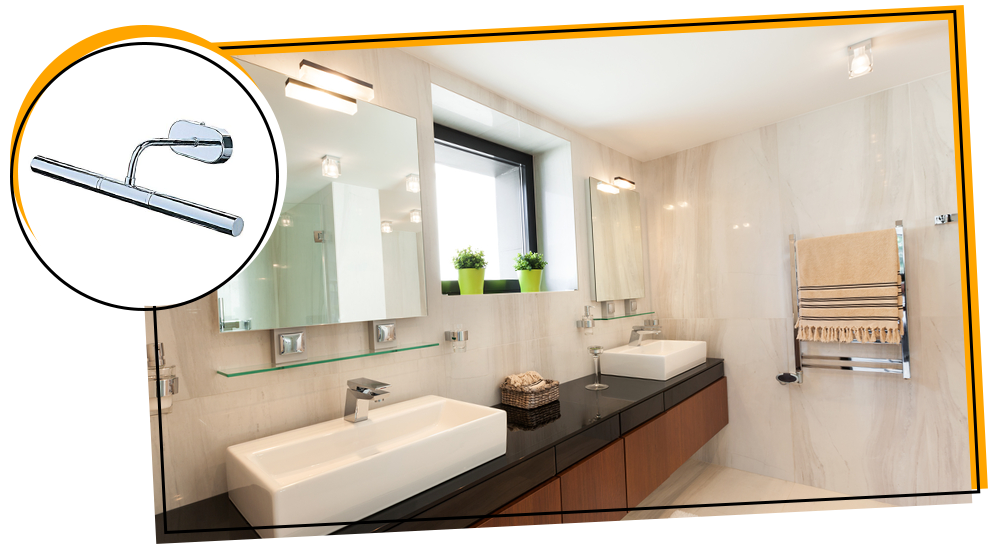 Wall lights are the perfect choice for the bathroom, especially around the main mirror. They often give off a more flattering light than overhead spotlights, for instance, which can be a little harsh and glaring on the eyes in such a small and confined space.
‍
Fitting bathroom wall lights might involve 'framing' the mirror and positioning them a little higher up on either side, so you maximise the light without them being too blinding. Frosted white glass and chrome wall lights can look very smart and give off a beautiful glow, or you could go bold with above-mirror LED wall lights which are a more powerful light source and ideal for shaving.

Positioning Living Room Wall Lights
Sometimes in the evening, you just want to snuggle down and get cosy with more ambient lighting. Overhead lights can feel a little too much in that situation, whereas wall lights give off a much more subtle glow, especially when coupled with table lamps. If you're thinking of fitting wall lights in the living room, one important consideration has to be the style of the room and the décor.
‍
There are all sorts of traditional designs you can choose from if you own a period property, but sconces or antique-style candelabra lights can be perfect for this type of home. For more modern properties, there are plenty of contemporary wall lights to choose from, such as cement lights for an industrial look, or more abstract designs, which bring a touch of style.

How High Should Bedroom Wall Lights Be?
As with the living room, you may not always want an overpowering ceiling light in the bedroom. Bedroom wall lights positioned near the head of the bed can act as a substitute for table lamps, particularly if you're short on space and would rather not have bedside cabinets. They can also work well in the areas where you dress, particularly if you have a floor or wall-mounted mirror.
‍
If you're asking yourself 'how high should bedside wall lights be?', the answer is that it depends on the strength of the light. Further down the wall, recessed wall reading lights can spare your eyes when you're reading a book. Other wall lights should ideally be positioned a little further up. You should also remember that uplights cast a more subtle light than downlights, which makes them a better choice in the bedroom when you're winding down for the night and want lighting which is more conducive to sleep and kinder on the eyes.

Positioning Outdoor Wall Lighting
When you think 'outdoor lighting', wall lights are the perfect choice. Outdoor wall lights can illuminate your seating space and mean you can get more use out of it as the evening draws in. If you want to make the space more romantic, you could think about classic lantern wall lights, which have a magical, timeless quality to them.
‍
Alternatively, for a more powerful glow, you could think about spotlight style downlights, which you can tweak so they shed light exactly where you want them to.

Final Thoughts
Wall lights are incredibly versatile and really do complement other types of lighting, both indoors and out. Positioned well, you can create the most well-lit space. To find your ideal wall lights, simply browse our stunning collection, or for more advice on fitting wall lights or the style which might best suit your room, get in touch with our expert team today.

Shop Wall Lights